Haven't worked with a spider gel yet? Try it now! Believe me, you will be obesessed with it! It's a high elasticity and highly pigmented nail art gel that helps you do extremely thin lines and draw spider webs and other nail art designs super easy. 4 classic colors to choose. Shop to have fun now!
⭐ High Elasticity & Highly Pigmented
⭐ Easy To Create Thin Lines, Spider Webs
⭐ Cruelty-free & Eco-friendly
⭐ 30+ Days Long-lasting & High Quality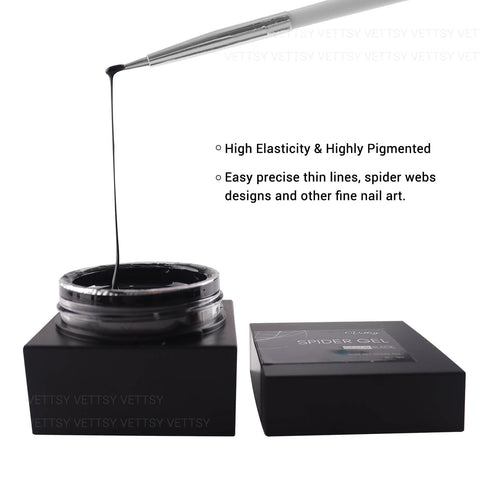 Features:
Item: Classic Spider Gel
Color: Black/White/Gold/Silver
Quantity: 1 Bottle
Volume: 10g
Curing Tools: UV Gel Lamp or LED Nail Lamp
How to apply:
1. Apply your base and base color first and cure.
2. Apply spider gel with dotting pen.
3. Draw your design with the dotting pen and cure.
4. Apply gel top coat and cure.
5. Design complete.
Package Contents:
Classic Spider Gel(10g) x 1
Notice:
*Due to varying differences between screens and cameras, colors may not be accurately represented.*
Click Here for all colors set