? Free shipping for order over 10$ 
?Payment via Paypal or Credit card
✈️Shipping time >> Click to lean more
Product Descriptions:
Please Note: We suggest using this Metallic Silver Base Gel together with Venalisa Glaze Transparent Gel to make the perfect nail look.
Click here to purchase the Glaze Transparent Gel
Specification:
Brand: Venalisa
Name: Metallic Silver Base Gel
Volume: 5g
N.W: 10.5g
Curing lamp: LED lamp, UV lamp.
Certificate: SGS, MSDS, REACH, CPNP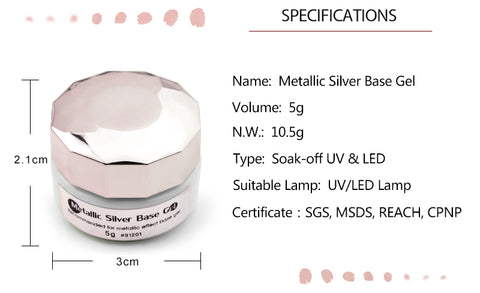 Application steps:
1. Apply a thin base coat, cure 1-2 minutes in UV lamp
2. Apply a thin coat of Metallic Sliver Base Gel, curing 1-2 minutes in UV lamp
3. Apply a thin coat of Glaze Gel, cure 1-2 mins
4. Repeat once for darker color, cure 1-2 mins, apply a thin top coat, cure 1-2 mins in UV lamp