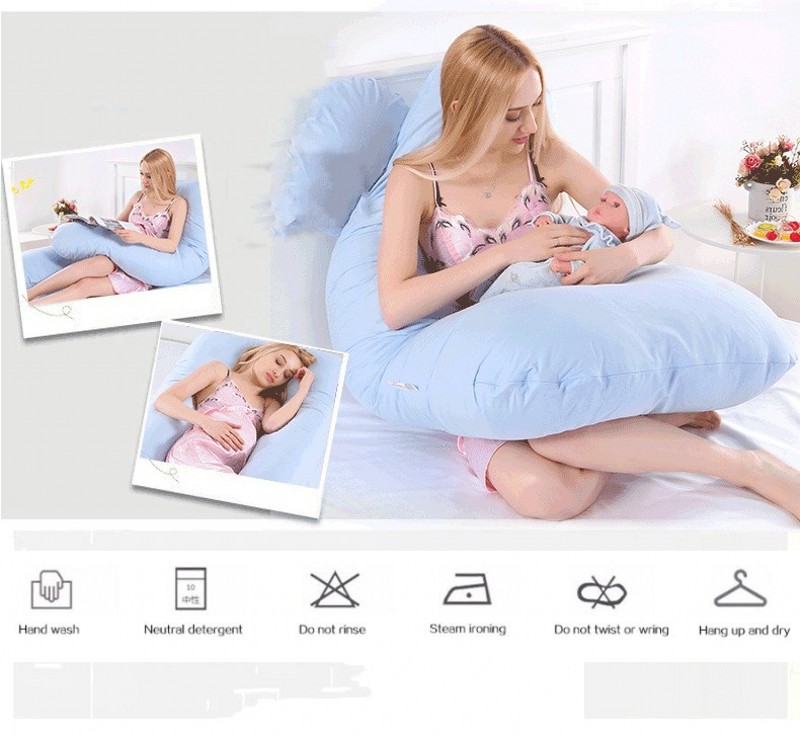 OVER 10 DIFFERENT SLEEPING & RELAXING POSITIONS!
Finally, get the rest you need!
This giant U Shaped Body Pillow helps pregnant women, new moms, and difficult sleepers sleep peacefully. Perfect for any sleep position.
The unique shape contours to your body and ensures support for hips, neck, shoulders, and back all while helping to regulate body temperature and enhancing circulation for deep and restful sleep.
You need a whole lot of energy when you're expecting. After all, you're growing a baby inside that beautiful bump. But just when you need rest the most, it can be hard to come by — especially in the second and third trimesters, when finding the perfect sleeping position becomes more of a challenge. Snuggling up to a Giant U Shaped Body Pillow can make all the difference.

MULTI-PURPOSE BODY PILLOW: Though designed for expecting or breastfeeding mothers, this U shaped body pillow also helps side sleepers, offers belly, arm & neck support, and relieves pain and discomfort.
COMFORTABLE POSITIONS: This uniquely designed body pillow replaces the need for multiple pillows at night and gives you the ultimate painless and sound sleep. This ALL-IN-ONE pillow cradles your body to help eliminate tossing and turning, keeping your neck, shoulders, back and hips aligned all night long. It offers lumbar support and relieves aches associated with sciatica, gastric reflux, and more.
HYPOALLERGENIC: This pillow is made from 100% polyester and is ideal for people with allergies and sensitive skin or other medical conditions. It is also perfect for infants to rest on while breastfeeding.
ULTRA SOFT: The removable cover is extremely comfortable and soft. The pillow and cover are machine-washable.
Specification:
pillowcases color: white, purple, pink, blue, green, camel color
Filling: 100% Polyester Fiber
Grade: Grade A
Pillowcases: 100% Cotton, Velvet.
Pillow Core: Pearl Cotton
Part: body, head, Waist
Pattern Type: Cartoon, Solid, Spot.
Shape: u-shape
Weight: about 1.3kg
Suitable for: women who 175cm or below 175cm height
Feature: Anti-Static, Cooling, Anti-Snore
Product Include:

1 * U Shaped Body Pillow